Himachal Pradesh : Shimla
Originally called Simla, is a city in the Indian state of Himachal Pradesh. It is also the capital of the state and a municipality within the Shimla district. Shimla was the summer capital of the erstwhile British Raj in India. A popular tourist destination, Shimla is often referred to as the "Queen of Hill Stations" (a term coined by the British). Located in north-west Himalayas at an altitude of 2,130 metres (6,988 ft), the city of Shimla, draped in forests of pine, rhododendron, and oak, experiences pleasant summers and cold, snowy winters. The city is famous for its buildings styled in tudorbethan and neo-gothic architecture reminiscent of the colonial era. Shimla is connected to the city of Kalka by one of the longest narrow gauge railway routes in India[2]. Shimla is approximately 115 km (71.4 miles) from Chandigarh, the nearest major city, and 365 km (226.8 miles) from New Delhi, the national capital. The city is named after the goddess Shyamala Devi, an incarnation of the Hindu Goddess Kali.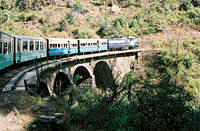 The climate in Shimla is predominantly cold during winters, and moderately warm during summers. The temperatures range from 3.95 °C (39.11 °F) to 32.95 °C (91.31 °F) over the year. The average temperature during summer is between 14 °C and 20 °C, and between -7 °C and 10 °C in winter. Monthly precipitation varies between 24 mm in November to 415 mm in July. It is typically around 45 mm per month during winter and spring and around 115 mm in June as the monsoon approaches. The average total annual precipitation is 1520 mm (62 inches). Snowfall in the region, which usually took place in the month of December has lately (over the last fifteen years) been happening in January or early February every year.