Kerala - Munnar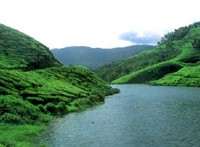 Munnar is a town located in Kerala state in South India. The name is often used to refer to the whole tourist area of Idukki District of which the town forms a part.
Most native flora and fauna of Munnar has disappeared due to severe habitat fragmentation by plantations. However, most of the species survive in several protected areas nearby, including the new Kurinjimala Sanctuary to the east, Chinnar Wildlife Sanctuary and Manjampatti valley in Amaravati reserve forest of Indira Gandhi Wildlife Sanctuary to the north east, Eravikulam National Park and Anamudi Shola National Park to the north, Pampadum Shola National Park to the south and the proposed Palani Hills National Park to the east. These protected areas are especially known for several threatened and endemic species including Nilgiri Thar, Grizzled Giant Squirrel, Nilgiri Wood-pigeon, Elephant, Gaur, Sambar, and Neelakurinji.
This beautiful hill station is popular for its cool climate and tea plantation. This quiet little town boasts of many colonial bungalows, tea factories, wildlife sanctuaries and many lakes. Munnar is situated at the confluence of three mountain streams namely Mudrapuzha, Nallathanni and Kundala. This hill station, located at an altitude of 1600 m above sea level, was once the summer resort of the erstwhile British government in South India. Sprawling tea plantations, picture book towns, winding lanes and holiday facilities make this a popular hill station in south india. Munnar, also known as the Kashmir of South India. Dense forests, wildlife sanctuaries and major cash crop plantations cover most of the region.

Devikulam (7km from Munnar) This small hill station with its velvet lawns, exotic flora and fauna and the cool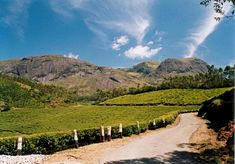 mountain air . It is a beautiful place with lot of tea plantations. The Sta Devi Lake with its mineral waters and picturesque surroundings is a good picnic spot. The lake is also ideal for trout fishing.

Pallivasal (8km from Munnar) This is the venue of the first Hydro Electric project in Kerala. It is place of immense scenic beauty. On working days it is possible to visit Hydro Electric project.

Attukal (9km from Munnar) A panorama of waterfalls and rolling hills, Attukal, located between Munnar and Pallivasal, is a feast for the eyes. The place is also ideal for long treks.
Nayamakad (10km from Munnar): Located beween Munnar and Rajamala, Nyayamakad is a land of scintillating waterfalls. The waters cascade down a hill from a height of about 1600 meters. The enchanting surroundings makes an excellent picnic spot and ideal trekking point.