Himachal Pradesh : Leh Ladakh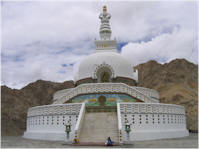 Leh was the capital of the Himalayan kingdom of Ladakh, now the Leh District in the state of Jammu and Kashmir, India. The town is still dominated by the now ruined Leh Palace, former home of the royal family of Ladakh, which resembles a mini-Potala Palace. Leh is at an altitude of 3650 meters (11,975 feet).
The placid Pangong Lake is not just a tourist's paradise but a geologist's domain too. Travelers can enjoy the solitude for a day or two, zoom their cameras to shoot the black-necked Siberian crane around the Mahe marshes which are the only breeding ground for these migratory birds. At times, they are seen swarming in the cool colorful water of the lake.

The long and narrow lake lies in the neighborhood of the famous Chushul Mountains. The size of the lake is best inferred from the probable etymology of its name, Pangong, which mean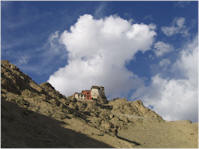 s extensive concavity. The mirror-calm water is cold, clear, and extremely salty, holding sufficient quantity of lime to form a calcareous deposit, which cements the pebbles together in patches of concrete on its bank. It is believed that there is a large amount of minerals in the basin of the lake, which result from the melting of the snow. The water sparkles in distinct shades of blue, green, purple, and violet, being transparent to a good depth. With ease, one can pick pebbles from under the water, and if one is lucky enough, a fossil shell in the clay deposits may be a rewarding find. This route takes the visitor past picturesque villages of Shey and Thikse, and turns off the Indus valley by the side-valley of Chemrey and Sakti. The Ladakh range is crossed by the Chang-la (18,000 feet / 5,475 m) which despite its great elevation is one of the easier passes, remaining open for much of the year even in winter, apart from periods of actual snowfall. Tangse, just beyond the foot of the pass, has an ancient temple.
But the main attraction of this circuit is the Pangong Lake, situated at 14,000 feet (4,267 m). A long narrow basin of inland drainage, hardly six to seven kilometer at its widest point and over 130km long, it is bisected by the international border between India and China.