GOA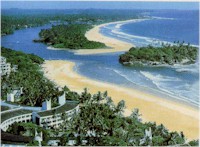 India's smallest state in terms of area and the fourth smallest in terms of population. Located on the west coast of India in the region known as the Konkan, it is bounded by the state of Maharashtra to the north, Karnataka to the east and south and the Arabian Sea forms its western coast.

Goa has it all, sun, sand and sea. An unique blend of Latin and Oriental, incredibly rich in monuments and historical sites, dazzling variety of exotic flora and fauna, lush green hinterland, rivers that offer water adventure sports that will thrill you beyond expectation.

Goa has a timeless charm.....Its uniqueness lies in the fact that whilst creating a delicate synthesis of various cultures, it has retained its inherent soul.

Goa, certainly is a land of dreams and romance.....a timeless world of gentle hospitable people and unhurried activity.Variously known as "Rome of the East", "Tourist Paradise" and "Pearl of the Orient", the state of Goa is located on the western coast of India in the coastal belt known as Konkan.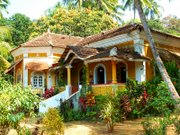 The magnificent scenic beauty and the architectural splendours of its temples, churches and old houses have made Goa a firm favourite with travellers around the world.

Colva Beach Colva is on the northern end of this long, continuous strip of coastline. It is located just 6 km away from the city of Margao. It's broad and beautiful, has a stream coursing through it and is backed by palms. Sadly, its beauty has made it popular and its popularity has cheapened it: its off-beach shops and restaurants, brightly lit and crowded, give it the feel of a funfair rather than a serene, unwinding beach. This is essentially our domestic tourists' paddling beach.

Colva is quite a crowded beach. And, to ones surprise a majority of the crowd consists of locals. Though scenically this isn't one the best beaches, it does have a lot of good restaurants. There are a variety of hotels along this beach that suit almost every budget.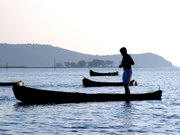 Goa has a short cool season between mid-December and February. These months are marked by cool nights of around 20 °C (68 °F) and warm days of around 29 °C (84 °F) with moderate amounts of humidity. Further inland, due to altitudinal gradation, the nights are a few degrees cooler.
The most popular celebrations in Goa are Christmas, Easter Sunday, Ganesh Chaturthi, Divali, New Year's Day, Shigmo and the Carnival. However, since the 1960s, the celebrations of the Shigmo and carnival have shifted to the urban centres, and in recent times these festivals are seen more as a means of attracting tourists. Celebrations for all festivals usually last for a few days and include parties and balls.